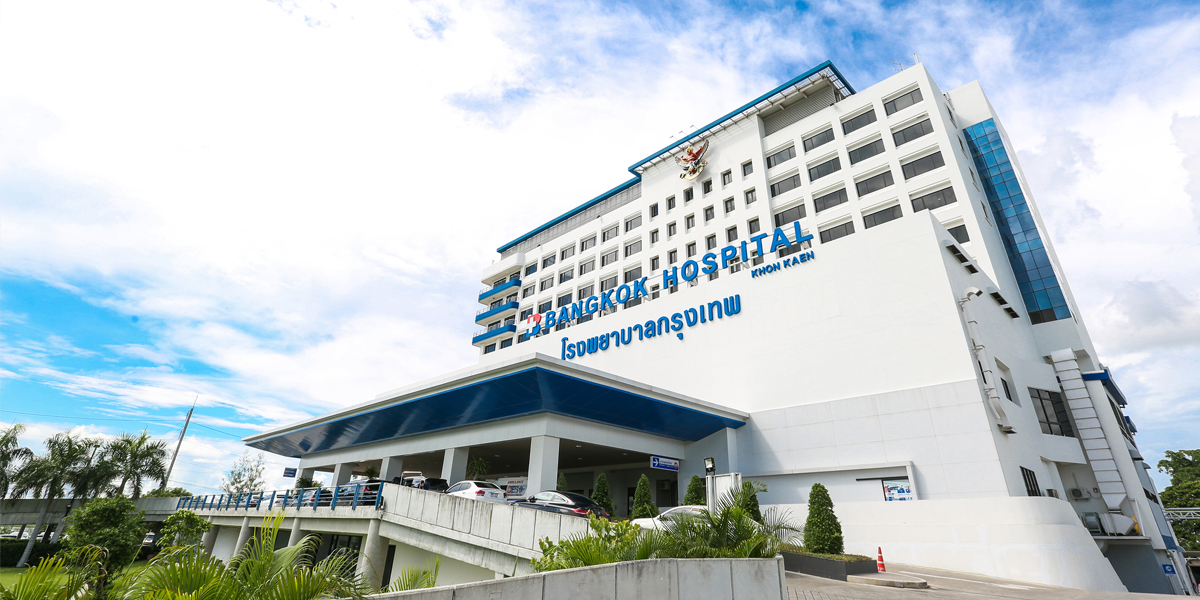 Bangkok Hospital Khon Kaen is easy to reach. The hospital is located on Maliwan Road, which is a main thoroughfare running east-west through Khon Kaen. The hospital meets the needs of the community in several ways. For example, around Khon Kaen, traffic is often congested, leading to many opportunities for traffic accidents. Therefore, the hospital provides emergency medical services, including treatment for head injuries and multiple trauma. The services of the hospital are also responsive to the economic and social conditions of the community. With an increase in the number of people working long hours in offices and factories, there has been an increase among these high-risk groups in diseases, such as cardiovascular disease, diabetes, musculoskeletal disorders, and occupational injuries. The community is also aging. With more pregnancies among women aged 35 years and older, services are also available for high-risk pregnancies. Aging populations also experience an increase in noncommunicable diseases, such as diabetes, high blood pressure, and diseases of the eyes and kidney. Bangkok Hospital Khon Kaen is focused on these needs. Among communicable diseases, respiratory disease remains the primary concern. The hospital is responsive to many viruses that circulate locally, including influenza, RSV, and the family of enteroviruses that cause hand foot and mouth disease.
Bangkok Hospital Khon Kaen takes advantage of its convenient location and serves as a referral center for the Northeast Region. Additionally, the hospital takes pride in using modern equipment and employing the best doctors that are specialized in these areas.
The business growth model of the hospital is focused on increasing the services to intensive care patients, surgical cases, and the treatment and transport of patients requiring complex care from nearby hospitals or other private hospitals outside the province. The goal is to increase the Case Mix Index (CMI), which is a measure of the complexity and resource-intensiveness of the hospital's case load.
Core Competencies of Our Organization
Providing care for patients at the tertiary level, equipped with modern technology and expert personnel
Providing minimally invasive surgery using a 3D camera, which increases precision and safety and helps patients recover faster
Providing services for patients requiring emergency care, with emergency physicians and specialized personnel staffed 24 hours a day
Caring for patients with cardiovascular disease, including diagnosis using Coronary Computed Tomography Angiography (CTA), cardiac catheterization, drug treatments, installation of artificial pacemakers, balloon angioplasty and stenting (Percutaneous Coronary Intervention), cardiovascular surgery, and cardio-rehabilitation
Key Success Factors
The executives and leadership team are committed to leading the organization in order to operate and manage the hospital in accordance with the organization's stated vision and mission.
The brand of the organization is well known. This hospital is part of the Bangkok Dusit Medical Services Public Limited Company, which is a large healthcare network; it is equipped with qualified personnel, medical equipment, and modern technology; it is prepared to provide the amount of support necessary to result in safe and effective care.
Our medical personnel are knowledgeable and skilled. Specialized doctors are available 24 hours a day, 365 days a year.